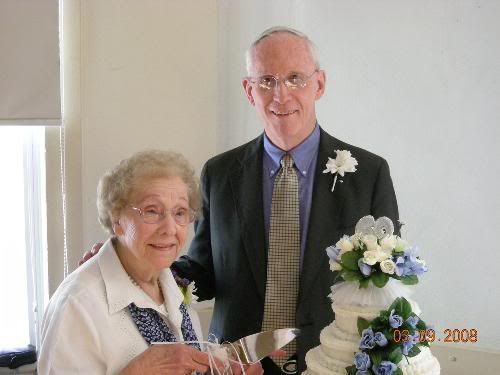 Mr. Tew passed away today. He has been such a good friend to us over all these years. He was suffering from the end stage of cancer and was so worn out. I'm praising God with a mixture of tears. He has gone home and no longer feels pain. We have been tremendously blessed by the love, patience, and kindness he has shown our family.
I have so many happy memories of him. We have known Mr. Tew for 11 years now. We've been in homegroup with him for almost 4 years. There were so many fun and good times together.
He had such a way with people including children. I remember the boys following him around church on Sunday mornings stacking chairs and during clean up of events pushing the big broom together. He always put them to work along side him and they were so happy to do it! He and Ishmael were "birthday twins" and they celebrated together at homegroup.
I believe he was the only truly gentle man I ever knew. I never heard him have a harsh word for anyone and he accepted and loved everyone he met. That we would all learn to lay our differences aside and love one another the way Mr. Tew did!
He has always encouraged Leon to keep his head up and to press on during times of unemployment. He even wrote wonderful letters of recommendation for him. He and his wife Margaret stopped by and visited with us every week for the entire year that Leon was out of work. They brought groceries to help us out and ALWAYS included treats for the kids.
There has never been a rough time in the last 11 years that Mr. Tew wasn't right there praying for and encouraging us. He has been such a wonderful part of our lives, I can't help but mourn the loss of him. We love him so dearly and look forward to being reunited again.