Christian Assembly does a Drive-Thru Christmas every year. It's much much more than a "Live Nativity". The people are fantastic and everything came together wonderfully.
There are six scenes. Scenes 1-5 are all part of the story of Jesus' birth. If you were to drive up in your car a guide would hand you a cd (or cassette tape) to play in your car. The cd would tell you to proceed to the first scene, and narrate what is going on with the actors/actresses in each scene starting with Mary's visit from Gabriel. The sets are gorgeous. I wish I had pictures of each one! At the end of each narration the cd will tell you it's time to move on to the next scene.
The event runs for 3-4 nights from 6:30-9:00. The actors each alternate between 30 min shifts and 30 minute breaks every night.
We were part of scene 5 and scene 6. I helped with dressing the actors and it was the perfect place for me. I had so much fun!
Ishmael played a shepherd boy on one of the nights. It was his favorite part of the event. He's just too cute for words!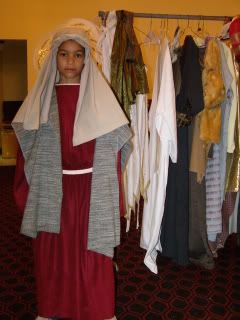 As you drive up to scene 5 the cd explains that Jesus was born in a manger. Already in the scene is Mary, Joseph, an angel, and baby Jesus. 3 elaborately dressed wisemen appear from around the corner finding that the star shines above the stable and they enter inside. At about the same time you see 2 shepherds approach to see the child the angels spoke of. The wise men bow down and present their gifts. All admire the Newborn King.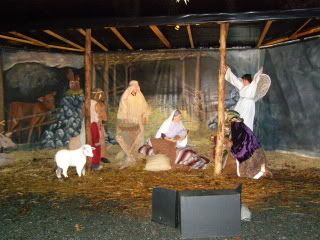 Ishmael was very relieved that his friend Matthew was in the scene with him.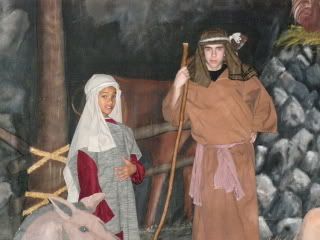 Scene 6 is about Jesus being King of the Universe. As you approach this scene you see children listening as Jesus is teaching. One child suddenly notices his nail scarred hands and all the children approach him. The narrative explains that Jesus died for our sins that we may have eternal life. Jesus calls all the children to him and embraces them with love and affection.
It is a very beautiful scene.
Joshua and our friend Elise.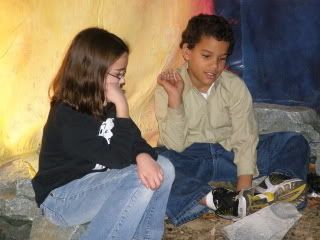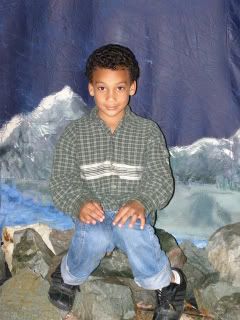 Our friend Elise again. She was such an adorable little shepherd!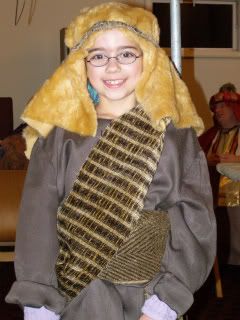 So much care went into each scene. The props and sets were all gorgeous! Kelsea played an angel in scene 4 but it was down at the lower end of the property and I was not able to take pictures. No walking back and forth between the scenes was allowed. It made for a more enjoyable experience for the passengers in their cars. You would feel like you have caught a glimpse of the story as it unfolds in history. Truly it is such an amazing event!