A few years ago we were dealing with major allergy symptoms with Joshua. He had a long history of asthma at that point, only he started breaking out in hives. Sometimes they would be massive and huge. Sometimes they drove him crazy with the itching and discomfort.
We did the round of testing and were not getting any answers. One day we made an appt with a doctor in our clinic that we had not seen before. He knew exactly what it was.
Dermatographia
Basically anytime Joshua (even lightly) rubs up against something or gets a scratch his skin puffs up and swells. Sometimes it covers a large area of skin at once. Little is known about this skin condition. There are some treatments but the long term use of antihistamines and steroids would be more damaging than his level of discomfort.
There are people who use it for art. Joshua uses it to impress his friends.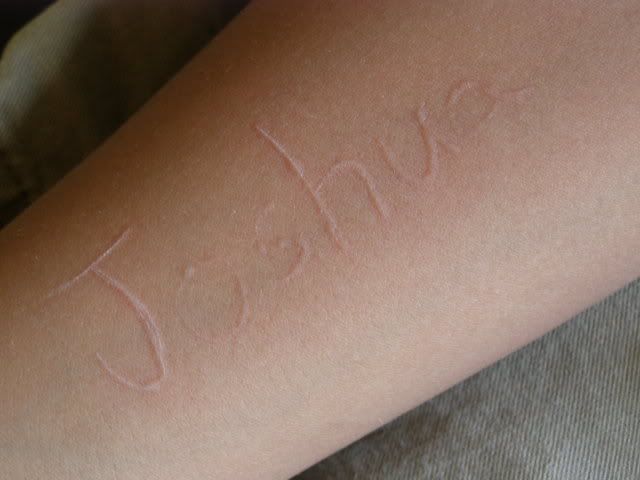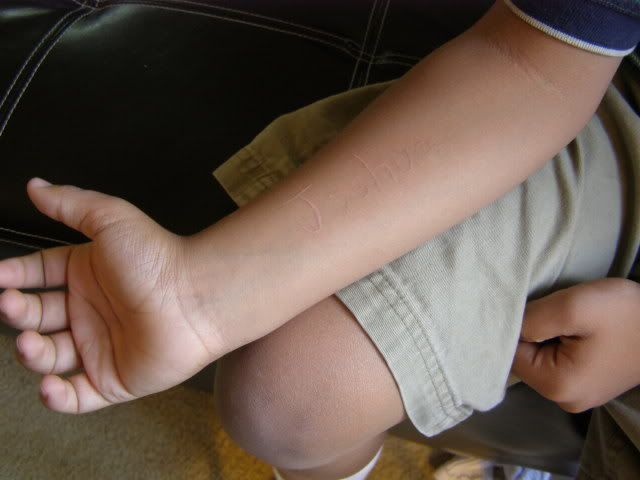 ***he did this himself with a toothpick. He assures me it doesn't hurt or else I would put a stop to it***
The swelling and puffiness goes away in about 20-40 min.