When he was 6 years old Ishmael made a profession of faith that Jesus Christ died for his salvation. He did this at home during prayer time. He's pretty quiet about his faith, but takes it very seriously.

Joshua went forward to pray during the alter call at Christian Assembly's VBS when he was 7 and professed a belief in Jesus. He was so excited he told me all about what it meant on the car ride home and again later with Leon.
Because the boys were so young we decided to wait and talk to them about baptism when they were older. We wanted it to be their own individual choice. One that they make all on their own with no prompting from us.
Pastor Mac preached on baptism recently and it got the boys talking about it. They asked questions at home and they both decided that it was what they wanted to do. So we invited Pastor Mac and Mr. Dale over to talk with the boys about it.
Both boys shared their statement of faith so clearly and so directly, it brought tears to my eyes.
Joshua said, "I know that Jesus died on the cross for my sins, that he died, was buried, and rose again."
Ishmael said, "People sometimes put other things as more important than God, but I
believe that Jesus was the ultimate sacrifice and paid the price for my sins."
Romans 6:3-5
"Or do you not know that all of us who have been baptized into Christ Jesus have been baptized into His death? 4Therefore we have been buried with Him through baptism into death, in order that as Christ was raised from the dead through the glory of the Father, so we too might walk in newness of life. 5For if we have become united with Him in the likeness of His death, certainly we shall be also in the likeness of His resurrection,"
Joshua: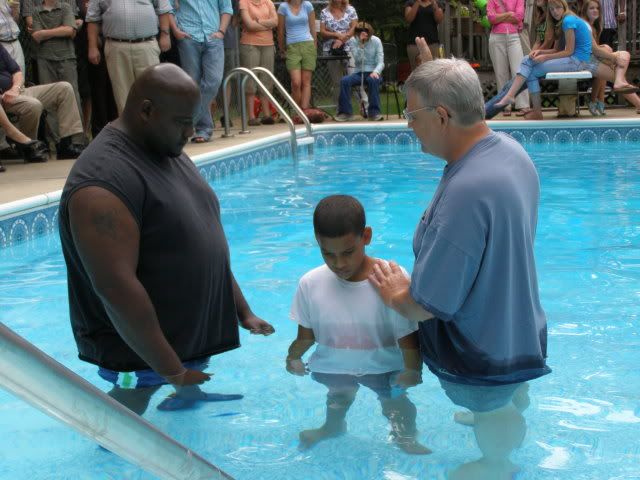 Being buried with Christ.
Rising in newness of Life.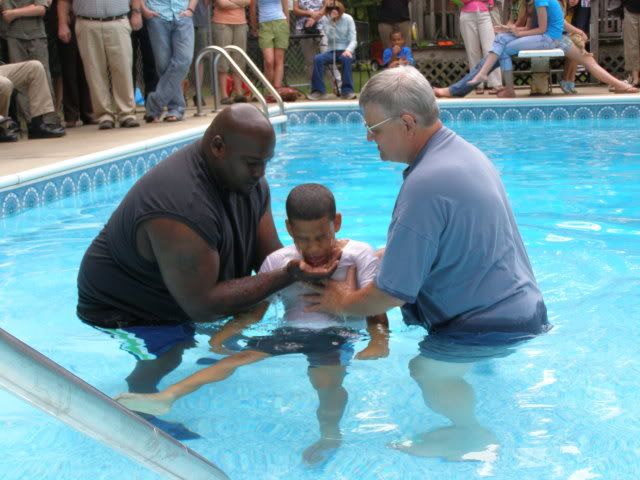 Ishmael:
Being buried with Christ.
Rising in newness of Life.